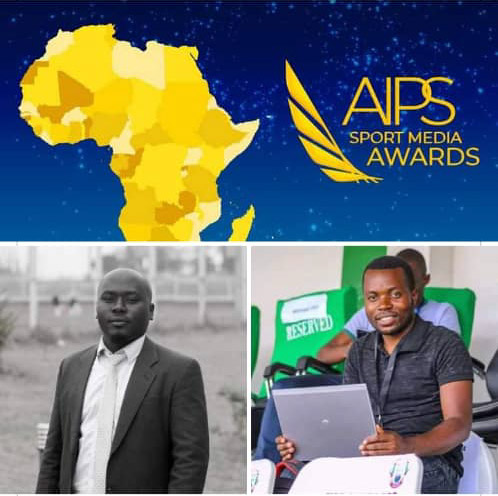 TWO ZAMBIAN JOURNALISTS SHORTLISTED FOR AIPS – INTERNATIONAL SPORTS PRESS ASSOCIATION AWARDS IN SWITZERLAND
Two Lusaka based Zambian journalists Noah Silomba and Aaron Mubanga have been shortlisted for the much anticipated third edition of the AIPS Sport Media Awards to be hosted by Lausanne, Switzerland.
According to a list published by the AIPS Sports Media website recently the two Zambian journalists are appearing in two different categories each with Noah Silomba shortlisted in the (Photography Sport Action, and Writing Best Colour Piece) while Aaron Mubanga has been shortlisted in the (Writing Best Colum, and Young Reporters Writing) categories.
The third edition of the AIPS Sport Media Awards amassed a record of 1871 submissions (in 34 different languages) coming from 129 different countries.
The shortlist is then passed to the Jury, established by 11 respected professionals from the five continents and presided by AIPS president Gianni Merlo. In the second voting stage, the Jury chooses the 3 finalists. A final voting stage takes place the day before the ceremony. Final winners are expected to be announced in April, 2021.
The 129 countries represented in this edition are split as follows: 39 from Europe, 34 from Africa, 28 from Asia, 26 from the Americas and 2 from Oceania. Furthermore AIPS delivered certificates to all the participants.
"With all continents represented, this edition highlights the remarkable resilience and importance of sports journalism amid the coronavirus pandemic, touching on local and international stories that dominated headlines between October 2019 and November 2020" a statement from the website reads.
PRIZES – The 8 senior categories in Photography (Action, Portfolio), Writing (Best Column, Best Colour Piece), Audio and Video (Short Feature, Athlete Profile, Documentary) offer a total sum of 104,000 US Dollars (US$, 8,000 per winner, US$, 3,000 for the second-placed and US$ 2,000 for the third-placed).
The Young Reporter Under 30 categories (Broadcasting, Photography and Writing) will reward three journalists with a scholarship at an international sporting event.
The Awards are a highest accolade in sports journalism, and a celebration of those professionals that produce the best and most creative content worldwide.
Full list of those shortlisted click link https://www.aipsawards.com/single-news?id=20198
DOWNLOAD